Movimento de areias na formação de dunas um modelo a partir de uma analise dimensional
Resumen
A costa litoral portuguesa tem uma grande densidade populacional e constitui uma preocupação em termos de risco e segurança. É sabido que as diferentes estruturas existentes, tanto naturais como artificiais, podem minimizar o risco por aumentarem a segurança desses locais. As dunas, como um exemplo a ser considerado como estrutura costeira natural, contribuem de forma inequívoca para a retenção de areias que são transportadas por acção do vento. Nestas circunstâncias os sistemas dunares representam uma barreira de protecção natural ao avanço da subida do nível médio das águas marítimas.
Citas
Bagnold, R.A. (1973). The Physics of Blown Sand and Desert dunes. Chapman & Hall.
Davidson, J.F. & Harrison, D. (1963). Fluidised Particles. Cambridge University Press.
Kay, J.M. & Nedderman, R.M. (1974). An Introduction Fluid Mechanics and Heat Transfer. Cambridge University Press.
Kunii, D. & Levenpiel, O. (1977). Fluidization Engineering, Robert E. Krieger Publishing.
Nordmeier, W. (2001). Physics of sand – Formation of Ripple Patterns and Dunes. Selected Contribution. In International Conference Physics Teacher Education Beyond 2000, Pints, R. & Suriqach, S. Elsevier. Editions, ISBN2 – 84299-312-8, Paris, pp. 547-549.
Ogawa, A. and Beddow, J.K. (1984): Separation of Particles from Air and Gases, Vol 1, CRC Press, Inc., pp. 152.
Talaia, M.A.R. (2002). Incipient Fluidization: the Influence of the Pressure on the Minimum Fluidizing Velocity and Voidage Fraction. Paper Presented on the 2nd Annual European Multiphase Systems Institute meeting and 40th European Two-Phase Flow Group meeting, Stockholm, Sweden, Paper D-5, 3 pages.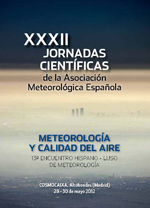 Descargas
Sección
Aplicaciones meteorológicas