Forzamiento externo, externo, respuesta térmica y sensibilidad climática en simulaciones y reconstrucciones del último milenio
Resumen
El presente trabajo analiza un conjunto de 26 simulaciones forzadas procedentes de 8 modelos climáticos acoplados de atmósfera y océano (del inglés, AOGCMs) para el último milenio.
Citas
Ammann, C. M., F. Joos, D. S. Schimel, B. L. Otto-Bliesner, and R. A. Tomas, 2007: Solar influence on climate during the past millennium: Results from transient simulations with the NCAR Climate System Model, Proc. Nat. Acad. Sci., 104, 3713-3718, doi:10.1073-pnas.0605064103.
González-Rouco, J. F., E. Zorita, U. Cubasch, H. von Storch, I. Fisher-Bruns, F. Valero, J. P. Montavez, U. Schlese, and S. Legutke, 2003b: Simulating the climate since 1000 AD with the AOGCM ECHO-G, ESA, SP 535, 329-338.
González-Rouco, J. F., H. Beltrami, E. Zorita, and H. von Storch, 2006: Simulation and inversion of borehole temperature profiles in surrogate climates: Spatial distribution and surface coupling, Geophys. Res. Lett., 33, L01703, doi:10.1029/2005GL024693.
Hofer, D., Raible, C., Stocker, T., Banerjee, R., Gupta, S., Miura, H., Borole, D., Hu, Y., Yang, J., Kettle, A., et al.: Variations of the Atlantic meridional overturning circulation in control and transient simulations of the last millennium, Clim. of the Past Discuss., 6, 1267–1309, 2010
Jungclaus, J., Lorenz, S., Timmreck, C., Reick, C., Brovkin, V., Six, K., Segschneider, J., Giorgetta, M., Crowley, T., Pongratz, J., et al.: Climate and carbon-cycle variability over the last millennium, Clim. of the Past, 6, 723–737, 2010
Phipps, S., Rotstayn, L., Gordon, H., Roberts, J., Hirst, A., and Budd,W.: The CSIRO Mk3L climate system model version 1.0–Part 1: Description and evaluation, Geoscientific Model Development, 4, 483–509, 2011.
Servonnat, J., Yiou, P., Khodri, M., Swingedouw, D., and Denvil, S.: Influence of solar variability, CO2 and orbital forcing during the last millennium in the IPSLCM4 model, Clim. of the Past, 6,445–460, 2010.
Swingedouw, D., Terray, L., Cassou, C., Voldoire, A., Salas-Melia, D., and Servonnat, J.: Natural forcing of climate during the last millennium: fingerprint of solar variability, Clim. Dyn., pp. Published online, 1–16, 2010.
Tett, S. F. B., R. Betts, T. J. Crowley, J. Gergory, T. C. Johns, A. Jones, T. J. Osborn, E. Ostrom, D. L. Roberts, and M. J. Woodgage, 2007: The impact of natural and anthropogenic forcings on climate and hydrology since 1550, Clim. Dyn., 28, 3-34.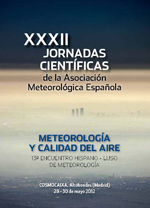 Descargas
Sección
Climatología, variabilidad climática, cambio climático, servicios climáticos